It's now more than a week since I've been home from the Edel Conference. I've read many of the blog posts written by other ladies who were there, and I have found it interesting that each of us, though we attended the same event, came away with slightly different messages, that spoke to each of us individually with just what we needed.
Here's my take-home:
On Friday after the cocktail party, Super Friend and I had a wonderful chat, late into the night. At one point in our conversation, she shared with me her love of the Divine Mercy devotion, and the prayer that is associated with the Divine Mercy image — "Jesus, I trust in you." I got so excited that she had brought this up, and shared with her that that simple prayer has been my mantra during all of my struggles with secondary infertility and miscarriage. Every month, during the waiting phase, when I start to get anxious and/or hopeful and/or discouraged, I say that prayer. Every time I get a negative on the pregnancy test, I say that prayer. Every time I start to feel despair that I will never have another baby, I say that prayer.
Divine Mercy and "Jesus I trust in you" have been my secret weapons against the anxiety and desolation that come with repeatedly trying and failing to get and stay pregnant.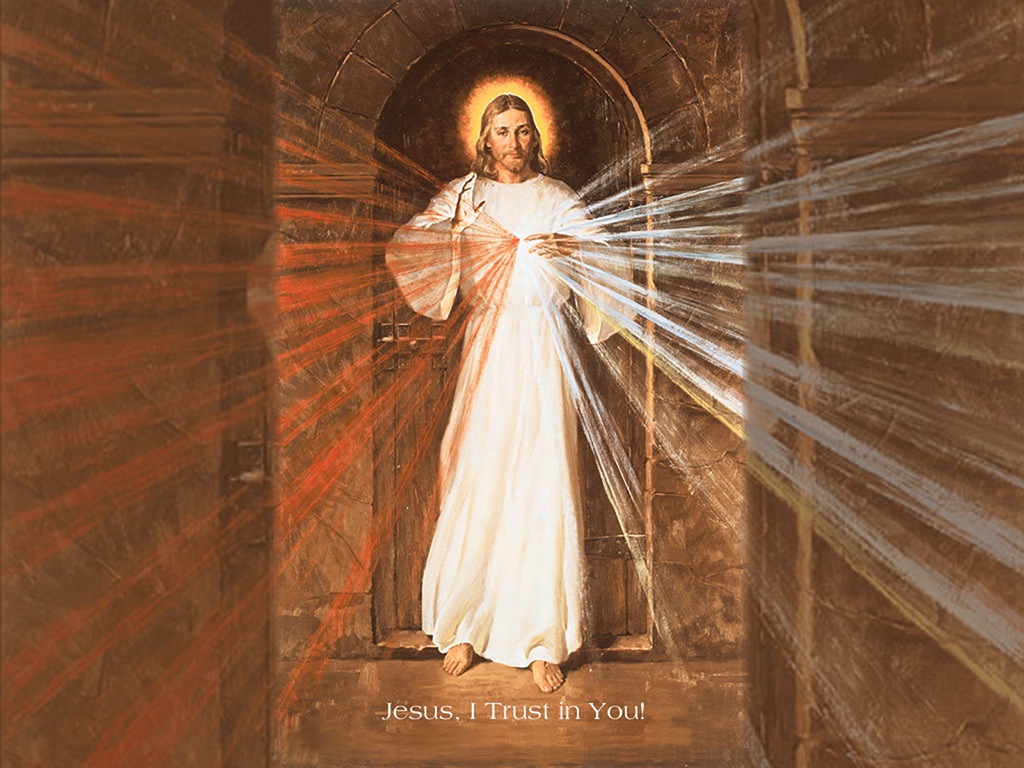 Later in this same conversation, Super Friend made reference to a Bible passage that was meaningful to her. She couldn't remember quite how it went right away, but the way she described it made me think of one that I know.
I got all excited and exclaimed, "Oh! Oh! Isn't that from Corinthians, or maybe it's Galations. . . Oh, I don't know where it's from, but do you mean the story about when Paul gets a thorn in his side and he asks God to remove it and God tells him something like, 'My grace is sufficient for you. My power is perfect in weakness'?  I don't remember exactly how it goes, but it's something like that, right? That is one of my favorite verses!"
She said that yes, that was what she meant, and I then proceeded to tell her that I had first heard the verse (it's actually 2 Corinthians 12: 7-10) when listening to a Lighthouse Catholic Media talk several months ago, and that it has become very meaningful to me since then. It seems like I keep hearing it and reading it all over the place, and every time I do, it hits me so hard that it's just what I need. It was even the Sunday Mass reading for the weekend before Edel! I shared with Super Friend that the verse (in addition to the Divine Mercy prayer) has been really special to me as a way of helping me to deal with my fertility struggles.
As we sat there and continued to talk, I was feeling absolutely amazed that Super Friend brought up the two big messages that I have kept in my heart for months. It felt like the Holy Spirit was speaking right to me through my friend. It was a conversation I will never forget.
But wait. It gets even better.
The next day, it got to be the time for the late afternoon speaker, so we were in the big conference room, and Kelly Mantoan was giving her talk. She was talking about the struggles of being a mom, and trying to find joy in our vocations, and I honestly don't remember the exact context of the moment in her talk, but at one point she said, "Jesus, I trust in You." I couldn't believe it. I shot a quick glance at Super Friend and almost burst into tears.
"That's my prayer!" I thought. "God keeps sending it to me."
And THEN, Saturday night the keynote speaker during dinner was Audrey Assad. Guess what she opened her talk with? Mm-hmm.
The above-referenced 2 Corinthians passage! 
I heard her start reading the part about the thorn in Paul's side, and I think my jaw just dropped, or maybe my eyes got teary, or maybe (probably) both of these things happened. Again, I felt the presence of God, speaking straight to my heart, through the lovely women of the Edel Conference.
There were so many wonderful take-home messages from the Edel Gathering. Each conversation and each speaker added a little something that I will hold in my heart.
But these moments that I'm writing about here, they were so powerful.
Jesus I trust in You.
My grace is sufficient for you, for power is made perfect in weakness.
I came home knowing that these two things that I have been holding on to for months are exactly what I need to keep holding on to. God was telling me that I need to trust Him. That my struggles are what are bringing me closer to Him. That His grace is enough to carry me through anything. That whether or not I ever have another baby, it will be okay.
I got exactly what I needed out of the Edel Gathering. What was your take-home message?