Back in September, at the beginning of our school year, I wrote this post about how well our homeschooling was going. Of course it was the beginning of the year and all the things were new and we were having so much fun and doing so much cool stuff and going on so. many. field trips.
Things are still going fine, but I must admit, our homeschool year has lost some of its shine. We've gotten a bit more into some humdrum-ness and haven't had a field trip in months (though I'm planning some big things to finish out the year). I mentioned in the September post that I wasn't really loving our math curriculum, Math-U-See. I tried to make it work for several months after writing that, but I have at this point completely abandoned it. It just wasn't for us, so I'm now piecing together other sources to round out Miss's math knowledge for the rest of this year.
This year was pretty much my try-some-stuff-and-see-what-works year. Because it's just kindergarten, and really I'm not even officially homeschooling yet, according to the powers that be, who don't require me to register my child until she starts first grade.
But next year is first grade.
So now I'm at the point of trying to decide what worked from this year and what didn't, what I want to keep and what I want to change. Obviously, we need a new math curriculum. I posted on Facebook a week or two ago that I was looking for suggestions, and I got some really great responses. I narrowed down the options to Horizons or Saxon.
I think.
While I was looking at Horizons and Saxon on the Sonlight website, I found myself checking out the full package curriculum they offer and thinking that maybe that would be a good option to try for next year. This is really odd to me, because last year I was feeling pretty strongly that I did not want to get a "curriculum in a box" and wanted to be able to be flexible and piece together the things I wanted to do and determine the time in which I wanted to do them.
But check this out: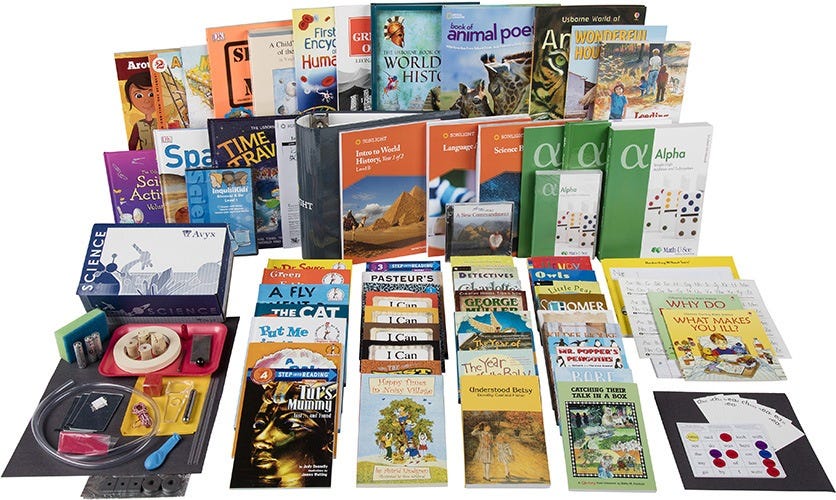 It's the Sonlight curriculum package for first grade. Doesn't that just look beautiful?
It has pretty much everything I'd need for the whole year to do pretty much all the subjects I need to do. I'd need to add some Catholic learning to the religion part, but other than that, this is pretty complete.
But I'm still not sure, so I started looking around for some other ideas of complete curricula, like the Rainbow Curriculum package, Catholic Heritage Curricula, and even this distance education school, the Mother of Divine Grace School.
Now I'm just not sure what to do. I'm either going to scrap what we did last year and get one of these packaged curricula, or I'm going to keep the things we did from last year that worked well, like our reading curriculum All About Reading and the literature-based package we used that we loved, Five in a Row, and add in one of the two math options I mentioned above.
On the one hand, I think it might be really nice to have a packaged curriculum that covers all the subjects I need and lays everything out with a plan and schedule so I don't miss any of the important stuff.
On the other hand, the creative side of me thinks I would really miss the time that I spend looking for fun things to do, coming up with unit studies on things my girls are interested in, picking field trips to match what we're reading about, finding art and science projects on Pinterest, and so forth.
The problem with continuing with what we did last year, is that I feel like I might have been a little lax in the areas of social studies and science and art. We did some of these things, for sure, but I wasn't really systematic about it. Five in a Row includes some activities for these subjects, but I don't think it's enough on its own as Miss gets older. So I guess if I stay with what I did last year, I'll have to add in a science curriculum and a social studies curriculum and maybe art and religion (to improve what I've already been doing in those areas).
OR, I could just get a big fat package and be done with it.
What's a mama to do?
Help me out here dear readers. I'd love to hear what you do, what works, what you love, and why.
Pretty please??